FAQ Dental Information - Denture and False Teeth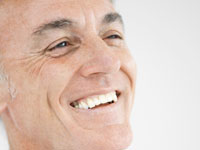 Q. How do you clean your dentures?
A. When cleaning your dentures, you should first rinse away loose food particles thoroughly. Then moisten your toothbrush and apply denture cleanser. Brush every surface, scrubbing gently to avoid damage.
Q. How many times a day does the denture need to be cleaned?
A. The denture needs to be cleaned two to three times daily.
Q. What is good oral hygiene when you have full dentures?
A. In addition to taking care of your dentures, taking care of your mouth also is vital if you wear full dentures. This includes brushing your gums, tongue, and palate every morning with a soft-bristled brush before inserting your dentures. This stimulates your tissues and helps remove plaque.
Q. Do dentures need to be replaced?
A. Dentures will need to be relined, remade, or rebased due to normal wear over a period of time and normal shrinkage of your gums and bones.
Q. What should you do if your dentures crack or break?
A. Call your dentist immediately. Normally, dentures can be repaired quickly, often on the same day. Damaged dentures can cause additional oral health problems, so see your dentist right away. Never attempt to repair dentures yourself. They require professional repair and adjustment.
Q. Why can't you fix dentures that break with glue?
A. Glues often contain harmful chemicals and are not effective in the proper repair of dentures.
Q. What are partial dentures?
A. Partial dentures are dentures that replace only a few missing teeth.
Q. How do you wear a removable partial denture?
A. Removable partial dentures are attached to your natural teeth with metal clasps or devices called precision attachments.
Q. How long will it take to get used to wearing a partial denture?
A. Your partial denture may feel awkward or bulky for the first few weeks, but your mouth will eventually get used to it.
Q. How long should you wear a partial denture?
A. Initially, you may want to wear your partial denture all the time. Your dentist will give you specific instructions on how long it should be worn and when it should be removed. Generally, your mouth tissues need to rest so it is advisable that you take out your partial denture at least 15 minutes per day.
Q. Will the partial denture change the way you speak?
A. Your partial denture may help your speech. It can be difficult to speak clearly when you are missing teeth. However, it also will take time to get used to it.
Complete Denture Care and Repair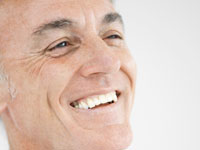 So, you've got brand new false teeth? And you think you're set for life, right? Not exactly.
It's frustrating but true: from the day you first don your dentures, the tissue in your mouth begins to shrink. Your replacement teeth are already on their way to not fitting. The ridges that support the dentures seem to have a life of their own and they begin to recede, the result? Loose dentures. The upper denture moves up and back, and the lower denture settles down. This causes your chin to approach your nose at as much as 1/16th inch per year! On top of that, the bite often goes awry, moving the upper teeth back behind the lowers.
Your appearance changes over time, your cheeks sag a little, new wrinkles around the mouth appear. Diagonal lines run from the nose to the corners of the mouth. Does the image of Gabby Hayes come to mind?
The good news
Denture wearers who refuse to succumb to a premature look of age can take heart. After all, this transformation is not caused by cheap dentures, but old dentures. It's not magic: a new denture can be made. To put it simply, the base is extended to compensate for the shrinkage in the tissue; this moves the front teeth forward to their original position. And takes years off your appearance.
Presto, chango!
Even if your present false teeth are in perfect condition, the changes in your mouth date them. In fact, don't expect dentures to last more than 5 to 10 years and still give you a natural look. A fact of life. But by replacing dentures as your mouth changes, you'll retain a youthful fullness to your face and keep a younger looking smile. If your dentures have been around a while, see your dentist and consider a new set. Old prosthodontics can make you look older, too. And that can be fixed.