Complete Denture Care and Repair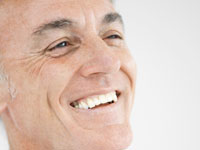 So, you've got brand new false teeth? And you think you're set for life, right? Not exactly.
It's frustrating but true: from the day you first don your dentures, the tissue in your mouth begins to shrink. Your replacement teeth are already on their way to not fitting. The ridges that support the dentures seem to have a life of their own and they begin to recede, the result? Loose dentures. The upper denture moves up and back, and the lower denture settles down. This causes your chin to approach your nose at as much as 1/16th inch per year! On top of that, the bite often goes awry, moving the upper teeth back behind the lowers.
Your appearance changes over time, your cheeks sag a little, new wrinkles around the mouth appear. Diagonal lines run from the nose to the corners of the mouth. Does the image of Gabby Hayes come to mind?
The good news
Denture wearers who refuse to succumb to a premature look of age can take heart. After all, this transformation is not caused by cheap dentures, but old dentures. It's not magic: a new denture can be made. To put it simply, the base is extended to compensate for the shrinkage in the tissue; this moves the front teeth forward to their original position. And takes years off your appearance.
Presto, chango!
Even if your present false teeth are in perfect condition, the changes in your mouth date them. In fact, don't expect dentures to last more than 5 to 10 years and still give you a natural look. A fact of life. But by replacing dentures as your mouth changes, you'll retain a youthful fullness to your face and keep a younger looking smile. If your dentures have been around a while, see your dentist and consider a new set. Old prosthodontics can make you look older, too. And that can be fixed.
Common Questions About Affordable Dentures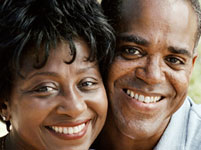 New experiences generate many questions. Here are some frequently asked questions patients often ask about dentures.
Affordable Dentures Are All the Same, Right?
No. Maintaining good oral health is important to denture wearers. Mail-order services offering discounts on dentures cannot provide the custom fit you need for good oral health. Poor-fitting dentures cause chronic irritation, contributing to mouth sores and changes in the bone or gum tissues. Your dentist wants you to enjoy a comfortable fit, and will carefully measure and prepare your mouth for affordable dentures. Dentists work with reputable dental labs where skilled technicians create your custom-fit, affordable dentures for maximum comfort.
Will My Eating Habits Need to Change?
Actually, there are very few eating restrictions for denture wearers. If you experience eating difficulties at any time, it is important to contact your dentist. Poor-fitting dentures can contribute to eating difficulties. Dentures that fit right are vital for enjoying a well-balanced diet that includes a wide assortment of foods.
Do I Have to Wear Denture Adhesives?
Dentures are custom-designed for a comfortable and good fit for you. As a result, they usually don't require the regular use of an adhesive, unless it's to stabilize dentures in need of repair. Poor-fitting dentures must be checked by your dentist as soon as possible to eliminate discomfort and the potential for irritation.
Will These "Permanent" Teeth Last a Lifetime?
Dentures are very durable but that doesn't make them indestructible. They can discolor, chip, break, and bend out of shape. With good care, affordable dentures should last for many years. Here are some tips for maintaining the appearance and extending the life of your dentures:
Use a brush designed specifically for dentures and a denture cleaner. Regular toothpaste can be too harsh for dentures.
Store dentures in a container of denture-cleaning solution or water. /li>
Soak in warm, not hot water. Hot water can damage their shape.
Use an effervescent cleansing tablet once a week to kill odor-causing bacteria.
Affordable dentures offer many benefits to the millions who wear them. While they take some initial adjustment, they can enhance your smile as well as your long-term confidence. Return to your dentist at least once a year to evaluate fit, appearance, and to receive an oral cancer screening.
by Brian J. Gray, D.D.S., M.A.G.D., F.I.C.O.