Denture Adhesives and Loose Dentures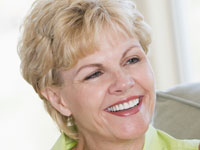 When the subject of dentures comes up, people often think of commercials for denture adhesives. These commercials imply that everyone uses adhesives to keep their dentures in and that denture wearers run the risk of having dentures fall out at embarrassing times!
When considering dentures, it is important to remember that they are custom-made to fit your mouth precisely and comfortably. In fact, dentures that fit properly do not require denture adhesives to stay in place. One exception to this rule may be when your dentures are new. Your dentist may suggest using an denture adhesive while you get used to the denture.
As time goes on and your mouth changes with age, you may find that your dentures must be replaced. Your dentist will provide advice on this, which is one reason to continue regular checkups after you begin wearing dentures.
A loose denture is a sign that it no longer fits your mouth or works properly. If your dentures become loose, you should see your dentist immediately. Continuing to wear a poorly-fitting denture will cause irritation to your gums and mouth, and can lead to infection over time. If you persist in wearing dentures that do not fit, your mouth may change shape and your ability to eat the foods you want and like will diminish.
A tip to keep in mind: you may feel your denture slip when you laugh, smile, or cough, particularly when your dentures are new. This slippage is caused by air suddenly getting under your denture base and moving it. The longer you wear your denture and become more comfortable with it, the better able you will be to control its movement in these situations.
While many of us remember grandparents or other older friends and neighbors whose dentures did indeed slip or require denture adhesives, today's dentures benefit from advances in dental and materials technology. Dentists work with respected laboratories where trained technicians make your personal dentures to the specifications that your dentist has provided. A good fit is crucial to enjoying life with your new dentures, and to letting others continue to enjoy your smile!
by Thomas Warner, D.D.S.
The Art of Good Replacement Teeth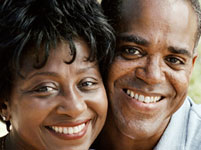 Some affordable dentures - sort of "ready to wear" - are stamped out of denture material, and resemble not so much real teeth as the surface of your bathtub.
False teeth that look and work best are more complicated. There are a hundred clinical and esthetic choices - about material, light, color - to achieve the most natural look and function. And every individual has different requirements.
How does a denturist decide just how to construct your prosthodontics? How do they know what tooth "size" you wear?
Some of the considerations:
Base material. Some bases absorb more moisture, which can affect the fit. Color should range from coral near teeth to pinkish near the base.
Tooth shape, length, edge. Depending on age - and even gender - there are differences in the shape and color of teeth. Generally, the front teeth are lighter than the cuspids next door. Some dentists work from photographs or your old denture to construct the nearest thing to your natural dentition.
Texture. Rather than smooth as glass, replacement teeth should have some texture on the surface, especially "uppers," to work properly when you eat and speak. How much texture is yet another factor in the fit?
Good false teeth are a labor of love. Then again, most dentists believe that good denture care is both a science and an art.