Avoiding Conventional Partial Dentures and False Teeth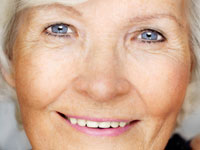 Precision and semi-precision partial dentures, like conventional partial dentures, replace missing natural teeth with artificial teeth. However, the means by which they are retained in the mouth is different than a conventional clasp prosthesis.
To better understand these partial dentures types, it is best to first review the basics of conventional partial denture clasps.
How Conventional Partial Denture Clasps Function
Most partial dentures are usually kept in place by clasps. These are thin finger-like projections of special resilient metal alloy, or, in certain cases, plastic or plastic-like materials.
Clasps rest on and around certain remaining natural teeth so that their ends extend into narrow areas below a gentler bulge on the tooth. Sometimes it is necessary to shape a tooth or make a crown for a tooth or teeth in order to develop the right amount and relationship of undercut and bulge for retention.
When a partial denture is placed in the mouth, clasps gently spring over a tooth bulge and rest in a relaxed state within an undercut.
A partial dentures are held in place during normal eating, speaking and other activities because clasps resist springing back over tooth bulges.
Clasp resistance to removal is not great enough to prevent a person from comfortably removing their partial denture whenever they choose.
The Problem With Conventional Denture Clasps
Despite numerous successful conventional clasp designs, they do have some drawbacks.
Clasps may at times become visible. Often, this is unavoidable and usually is not objectionable. However, for some individuals, the show of clasps is simply not acceptable because of personal circumstances and compromised appearance.
Certain partial false teeth may function better with retentive means other than conventional clasps.
Remaining natural tooth structures may be inadequate to accommodat conventional clasps. Therefore, dental crown or crowns may need to be fabricated to correct these deficiencies.
Semi-Precision and Precision Partial Dentures -- Viable Alternatives
Alternatives to conventional clasp partial dentures fall into two categories, both of which have no clasps to show.
Semi-precision partial dentures are retained in the mouth by means of mechanical interlocking components. A specially-shaped extension of the partial denture fits into or onto a complementary receiving area or projection of a natural tooth that has been crowned.
The components fit snugly and consist of a semi-rigid metal-to-other-surface interface, which may also be metal or some other resilient material such as nylon.
Precision partial dentures are similar to the semi-precision type except that the mechanical interlocking components are manufactured to extremely high tolerances and are held together by precise alignment and a rigid metal-to-metal frictional interface of components.
Advantages of Semi-Precision and Precision Partial Dentures
A cosmetically-enhanced partial denture as compared to conventional partial dentures
No show of metal clasps
Blends in with the conformity of remaining natural teeth
Functions with a more even pressure on remaining natural teeth than conventional partial dentures
Disadvantages of Semi-Precision and Precision Partial Dentures
Semi-precision partial dentures are the most costly to fabricate
Usually some natural teeth need to be crowned
More difficult to fabricate and adjust
Some components may need periodic replacement
Which Type of Partial Denture Is Best?
Every patient has unique oral health needs that are best determined by a licensed dentist after a thorough examination.
by Joseph J. Massad, D.D.S.
Denture Adhesives and Loose Dentures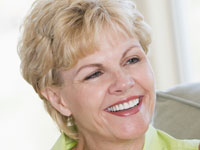 When the subject of dentures comes up, people often think of commercials for denture adhesives. These commercials imply that everyone uses adhesives to keep their dentures in and that denture wearers run the risk of having dentures fall out at embarrassing times!
When considering dentures, it is important to remember that they are custom-made to fit your mouth precisely and comfortably. In fact, dentures that fit properly do not require denture adhesives to stay in place. One exception to this rule may be when your dentures are new. Your dentist may suggest using an denture adhesive while you get used to the denture.
As time goes on and your mouth changes with age, you may find that your dentures must be replaced. Your dentist will provide advice on this, which is one reason to continue regular checkups after you begin wearing dentures.
A loose denture is a sign that it no longer fits your mouth or works properly. If your dentures become loose, you should see your dentist immediately. Continuing to wear a poorly-fitting denture will cause irritation to your gums and mouth, and can lead to infection over time. If you persist in wearing dentures that do not fit, your mouth may change shape and your ability to eat the foods you want and like will diminish.
A tip to keep in mind: you may feel your denture slip when you laugh, smile, or cough, particularly when your dentures are new. This slippage is caused by air suddenly getting under your denture base and moving it. The longer you wear your denture and become more comfortable with it, the better able you will be to control its movement in these situations.
While many of us remember grandparents or other older friends and neighbors whose dentures did indeed slip or require denture adhesives, today's dentures benefit from advances in dental and materials technology. Dentists work with respected laboratories where trained technicians make your personal dentures to the specifications that your dentist has provided. A good fit is crucial to enjoying life with your new dentures, and to letting others continue to enjoy your smile!
by Thomas Warner, D.D.S.