The False Teeth Shut-In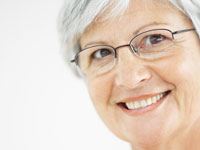 Are you a denture wearer who's afraid to be seen in public because your denture is unattractive? Do you find yourself eating alone because you can't eat foods your friends eat? Do you wear your partial dentures in your pocket?
Prosthodontics wearers, without knowing it, can become dental "shut-ins." They begin, subtly, to reorient their lifestyle around loose dentures. When false teeth don't look or function properly, some people withdraw from their social lives and suffer depression and diminished self-esteem. Some even become recluses.
Tale of a shut-in
One prosthodontics patient - a truck driver - couldn't eat properly with his cheap dentures. At truck stops, he would take his food back to his truck and eat alone. He gave up his only social activity on the road - swapping stories with other drivers over a meal. For two years, he was a prisoner in his own truck.
But many people can reverse this situation. When false teeth look and feel right, a denture wearer's whole mental outlook can brighten.
Eating gives pleasure and a feeling of security learned from early feeding experiences. It's an important part of most social occasions. When a person controls the quality and quantity of his food, he's able to achieve this sense of security and a feeling of self-esteem.
So let's start fresh.
There's no need to feel unattractive or live in fear of a denture faux pas in the company of friends and family. Your dentist can help you regain function, comfort, and a natural appearance by replacing or refitting your denture. A well-fitting denture is a small sort of miracle, but one that works wonders for your self-esteem. Don't be a shut-in. Call your prosthodontist, and start smiling again.
Is It Time for New Dentures?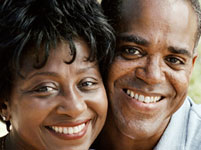 Dentures that fit well can improve your looks and enhance eating and speaking. Talk to your prosthodontist about your current situation and whether you need new dentures. In general, the life expectancy of false teeth is about five to seven years.
Factors that affect the satisfaction and life span of your prosthodontics include:
General health status
Significant weight increase or decrease
Time since loss of teeth
Denture care and cleaning
Tobacco and caffeine use
Shape of your mouth
Changes in facial and oral muscles
Variation in skin tone or color
The color match of false teeth to a natural tooth color can seem to change, especially if the natural teeth are darker due to stains or lighter because of past dental treatment. Also, dentures can wear, stain, chip, or fracture over time. Today's denturists are able to modify the look of smiles and gum tissues in order to compliment existing teeth, skin color, or tone.
Dentures, like all manufactured goods, require regular maintenance and eventual replacement. To maintain proper fit, appearance, function, and to avoid any damage to oral structure, a prosthodontist should regularly evaluate your false teeth. The gum and bone tissues that support dentures undergo changes over time and with age. Often, these changes include a good amount of bone shrinkage. Bone shrinkage causes a denture to become loose, less functional, and slip during eating and speaking. Age-related changes in facial muscles, complexion, and lips also will affect the function and appearance of your prosthodontics. Oral hygiene habits, use of tobacco, and drinking coffee or tea will also affect the appearance of a denture, as well as any odors associated with them.
Since dentures are in use every day, for many years, it is reasonable to periodically replace those that no longer fit properly. If you have not visited a denturist recently, if your false teeth slip, have lost their good looks, cause discomfort, or if they are more than five years old, you may need to replace them.
by Denise J. Fedele, D.M.D., M.S.