What To Expect From Immediate Dentures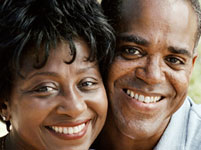 Immediate dentures are placed in the mouth directly after the remaining teeth are extracted. This approach is utilized when a person does not want to be without any teeth for several months while extraction tooth sockets heal and a denture is fabricated.
Immediate Dentures Involve a Two-Step Denture Process
Optimally, immediate dentures are the first denture of a two-denture process and should be considered as a temporary interim prosthesis until a second refined and esthetically enhanced denture may be constructed after healing.
First Stage
Usually, most or all of the back teeth are removed and extraction sites are allowed to heal for a minimum of six weeks or more, depending upon an individual's healing rate.
After adequate healing, the immediate dentures unit is fabricated.
The remaining teeth are extracted and the immediate dentures are placed in the mouth. Wearing immediate dentures right away over extractions normally is no more uncomfortable than the extractions alone.
Discomfort is managed with proper anesthesia and pain medication. Immediate dentures act like a Band Aid bandage, holding tissues together and protecting them during healing.
Generally, the dentist does not remove immediate dentures until the day after surgery. Surgery is checked and denture adjustments are made as necessary.
Immediate dentures will gradually become loose because of bone shrinkage as the jaw continues to heal. Provisional liners are placed in the loosening denture to help hold it in place during healing.
Adhesives also maintain the denture in place as it becomes looser. If immediate dentures become too loose during this healing period of several months, it may be necessary to reline multiple times.
Second Stage
After adequate healing has occurred, a second refined denture is fabricated. This denture allows the dentist to artistically position teeth in an optimal and enhanced esthetic relationship, which was not possible with immediate dentures. It also is now possible to establish better functional relationships of the jaws.
Approximately six months after the second denture is delivered, it will most likely need to be relined to compensate for continuing jaw shrinkage. After this reline, a patient usually needs annual relines to accommodate a continually shrinking jaw.
The frequency of relines is an individual matter unique to each patient and is best determined by a licensed dentist after a thorough periodic examination that should occur at six-month intervals.
Modified Approaches to Immediate Dentures
It is possible to extract all the back and front teeth at one time and insert immediate dentures. However, such an approach is problematic and generally is discouraged unless the patient has no other alternatives.
All teeth may be extracted with no interim denture while the jaws heal and a denture is fabricated. This is generally a more economical approach, but an individual would be without teeth for several months.
Advantages of Immediate Dentures
A person is not without teeth for any extended period of time.
Immediate dentures act as a bandage while bony tooth sockets are healing after tooth extractions.
Disadvantages of Immediate Dentures
A second refined and esthetically enhanced denture is necessary soon after the immediate dentures.
While the cost of immediate dentures is generally about the same as a conventional denture, the second denture needs to be fabricated soon after the immediate denture. Therefore, a person would be experiencing the additional cost of the second denture sooner.
by Joseph J. Massad, D.D.S.
Ouch: Denture Stomatitis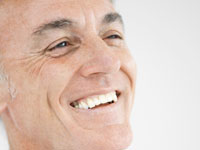 Lots of false teeth wearers know about it: stomatitis.
Stomatitis - "denture sore mouth" - is the most common symptom of yeast invasion, where tiny blisters develop on the gums. Other signs are patchy white spots in the mouth, a burning sensation, or a persistent unpleasant salty taste.
It's not all your fault. Your denture has something to do with it.
Prosthodontics with soft liners or those relined with a non-pressure process can harbor troublesome yeasts. On the other hand, pressure-processed dentures (the bubbles are pressed out under heat) are less porous and therefore less friendly to Candida infection.
Two brand-name processes that resist Candida are Ivoclar acrylic and Astron vinyl. If you have recurring denture stomatitis, ask your prosthodontist about one of these processes at your next reline.
Beat the yeast
If you're not due for new false teeth or a reline, you can take measures to control the growth of Candida at home. Cleaning dentures using the following recipe will help: Soak your dentures for two hours, four times a week in equal parts bleach, dish detergent and water. Follow this by a one-hour soak in half vinegar/half water.
This brew seems to work, but some false teeth materials can lose color - and any denture with metal parts other than gold will suffer.
Even better...The Journal of the American Dental Association recommends using a denture care solution containing benzoic acid that looks effective in killing yeasts with no damage to the prosthodontics. Commercially it's called Oral Safe (Great Lakes Ortho Laboratories, Tonawanda, NY), available through your dentist. There are remedies to "denture sore mouth." Because denture problems are a pain you just don't have to live with.