The False Teeth Shut-In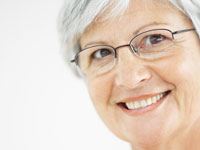 Are you a denture wearer who's afraid to be seen in public because your denture is unattractive? Do you find yourself eating alone because you can't eat foods your friends eat? Do you wear your partial dentures in your pocket?
Prosthodontics wearers, without knowing it, can become dental "shut-ins." They begin, subtly, to reorient their lifestyle around loose dentures. When false teeth don't look or function properly, some people withdraw from their social lives and suffer depression and diminished self-esteem. Some even become recluses.
Tale of a shut-in
One prosthodontics patient - a truck driver - couldn't eat properly with his cheap dentures. At truck stops, he would take his food back to his truck and eat alone. He gave up his only social activity on the road - swapping stories with other drivers over a meal. For two years, he was a prisoner in his own truck.
But many people can reverse this situation. When false teeth look and feel right, a denture wearer's whole mental outlook can brighten.
Eating gives pleasure and a feeling of security learned from early feeding experiences. It's an important part of most social occasions. When a person controls the quality and quantity of his food, he's able to achieve this sense of security and a feeling of self-esteem.
So let's start fresh.
There's no need to feel unattractive or live in fear of a denture faux pas in the company of friends and family. Your dentist can help you regain function, comfort, and a natural appearance by replacing or refitting your denture. A well-fitting denture is a small sort of miracle, but one that works wonders for your self-esteem. Don't be a shut-in. Call your prosthodontist, and start smiling again.
Root Caries: An Epidemic of Age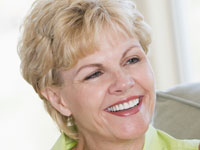 People are living longer and keeping their natural teeth more than ever before. The advances in tooth retention, the desire to look one's best, and higher expectations about oral health have raised dental awareness among older adults.
With the significant increase in the older portion of society, with even greater increases expected, more older adults will have more teeth that are susceptible to root caries. Root caries may emerge as one of the most significant dental problems among older adults during the next decade. A recent study conducted by the National Institute for Dental and Craniofacial Research (NIDCR) showed that over half of older adults have decayed or filled root surfaces. The frequency of root caries is strongly age-dependent and will continue to be a major dental problem among the elderly.
Root caries lesions can be caused by new or primary root caries, caries around existing dental fillings or recurrent caries, and abrasion or erosion of the root surfaces. Root caries progress quickly due to the relatively soft nature of the root surface, as well as the risk factors associated with the incidence of root caries.
Risk factors associated with the high prevalence of root caries among older adults include decrease salivary flow or xerostomia, exposure of root surfaces due to periodontal (gum) disease, chronic medical conditions, radiation treatment for head and neck cancer, physical limitations, and diminished manual dexterity due to stroke, arthritis, or Parkinson's disease, cognitive deficits due to mental illness, depression, Alzheimer's disease or dementia, Sjögren's syndrome (an autoimmune disease), diabetes, poor oral hygiene, multiple medication use, and changes in dietary habits. One or more of these risk factors or life changes, which are more common among older adults, can increase root caries in an individual who has not had dental caries for many years.
Root caries can be a challenge for the dentist to treat depending on the size and the type of root caries lesion, the extent and rate of caries activity for that person, the physical and mental condition of the individual, and where the root caries are located in the mouth. Many root lesions have limited accessibility and visibility, are often more complicated by pre-existing extensive dental work, and are difficult to isolate from oral fluids during the restoration process. Also, many people who have widespread root lesions have limited tolerance for dental treatment because of medical conditions, illness, and mental health problems.