If Your Dentures Make Your Mouth Sore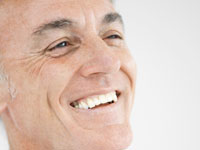 Having dentures should not hurt. People who wear dentures may experience temporary oral irritation or soreness. Eating certain foods may cause temporary pain. For example, a seed or peanut may slip under a denture and cause irritation to the gum.
This type of irritation usually goes away after a few days once the source of trouble (in this case the seed or peanut) is removed. Often, it may be more comfortable to leave the denture out of the mouth during this healing.
Dentures are custom made specifically for your mouth; therefore, new dentures often require adjustments to areas that rest directly on the soft tissue. Sometimes, due to bony ledges and undercuts, dentures require alteration. To improve the balance and pressure of the denture during eating, the bite is sometimes adjusted.
Adjusting a denture requires a quick and simple dental visit. The denture dentist may use an indicator paste or marker on the irritated mouth tissue, which is then transferred to the denture upon placement, to determine the exact location on the denture that needs adjusting.
A rotary dental hand piece is used to contour the denture. Often, relief of an impinging denture improves comfort immediately; however, keeping the denture out of the mouth for a while may help the irritation or sore heal. After a few weeks, discomfort associated with a new denture often is eliminated and the denture functions without pain.
Over time, the mouth undergoes changes that can affect the fit of a denture. Since the bone and gum tissue of your mouth changes over time, it is important that denture wearers visit the denture dentist at least once a year for an oral examination, including an oral cancer examination.
A denture dentist can exam your mouth to determine the cause of your pain, evaluate your soreness and irritations, and adjust your denture. Depending upon the severity of the denture sore and the length of time the denture has not been in the mouth, it may be necessary to wear the denture the day before the dental visit so that the dentist can accurately resolve the problem. Often, a few denture adjustments will resolve discomfort associated with your denture.
Seeing a denture dentist can help improve the fit, function, and look of your denture, as well as detect any problems that are not related to the denture.
by Denise J. Fedele, D.M.D., M.S.
Denture Identification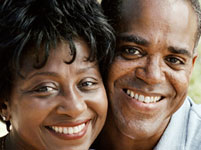 False teeth, like all personal items, can be lost or misplaced. Denture replacement after losing a denture is never a pleasant experience. A person whose denture is lost or misplaced may have difficulty chewing, eating, and speaking, and may be embarrassed by their looks.
Often, a missing denture is linked to being hospitalized or entering a nursing home. Personal items such as dentures or eyeglasses can be misplaced because of an accident, sudden illness, or admission to a hospital. Also, it is not difficult for a nursing home resident or staff member to misplace a denture.
Nursing homes, similar to hospitals, are busy places. Residents often are recovering from serious illness, have recently been discharged from a hospital, are undergoing rehabilitation, or have cognitive and mental health problems such as Alzheimer's disease or dementia. If lost or misplaced prosthodontics are found and they are not labeled with something that identifies its owner, it is very unlikely that it will be returned.
How a denture can be misplaced in a hospital or nursing home:
Wrapped in a napkin and left on a food tray
Placed in pocket of clothing
Removed during a nap and left in bed sheets
Other patients take denture
Staff places denture with another patient's belongings
False teeth can be labeled with an identification label at any time. They can be labeled when they are initially constructed, or the label can be added at a later date. A dentist or prosthodontist inserts the labels in an area of the denture that does not interfere with its function or looks. A dentist or dental technician should be responsible for labeling your prosthodontics. Do not label them yourself with home items such as a felt tip pen or marker. Denture identification can be any combination of a first name, last name, initials, or the first initial of the last name with the last four numbers of your Social Security number.
Loss of false teeth causes inconveniences and problems for the sick, the old, the mentally impaired, and family caregivers. Replacing prosthodontics also requires getting used to the new fit and appearance. Denture replacement also involves cost, arranging for a dental visit, time, and transportation. To eliminate the inconveniences of a lost or misplaced denture, consider the benefits of denture identification.
by Denise J. Fedele, D.M.D., M.S.