Common Questions About Affordable Dentures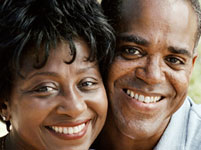 New experiences generate many questions. Here are some frequently asked questions patients often ask about dentures.
Affordable Dentures Are All the Same, Right?
No. Maintaining good oral health is important to denture wearers. Mail-order services offering discounts on dentures cannot provide the custom fit you need for good oral health. Poor-fitting dentures cause chronic irritation, contributing to mouth sores and changes in the bone or gum tissues. Your dentist wants you to enjoy a comfortable fit, and will carefully measure and prepare your mouth for affordable dentures. Dentists work with reputable dental labs where skilled technicians create your custom-fit, affordable dentures for maximum comfort.
Will My Eating Habits Need to Change?
Actually, there are very few eating restrictions for denture wearers. If you experience eating difficulties at any time, it is important to contact your dentist. Poor-fitting dentures can contribute to eating difficulties. Dentures that fit right are vital for enjoying a well-balanced diet that includes a wide assortment of foods.
Do I Have to Wear Denture Adhesives?
Dentures are custom-designed for a comfortable and good fit for you. As a result, they usually don't require the regular use of an adhesive, unless it's to stabilize dentures in need of repair. Poor-fitting dentures must be checked by your dentist as soon as possible to eliminate discomfort and the potential for irritation.
Will These "Permanent" Teeth Last a Lifetime?
Dentures are very durable but that doesn't make them indestructible. They can discolor, chip, break, and bend out of shape. With good care, affordable dentures should last for many years. Here are some tips for maintaining the appearance and extending the life of your dentures:
Use a brush designed specifically for dentures and a denture cleaner. Regular toothpaste can be too harsh for dentures.
Store dentures in a container of denture-cleaning solution or water. /li>
Soak in warm, not hot water. Hot water can damage their shape.
Use an effervescent cleansing tablet once a week to kill odor-causing bacteria.
Affordable dentures offer many benefits to the millions who wear them. While they take some initial adjustment, they can enhance your smile as well as your long-term confidence. Return to your dentist at least once a year to evaluate fit, appearance, and to receive an oral cancer screening.
by Brian J. Gray, D.D.S., M.A.G.D., F.I.C.O.
Denture Problems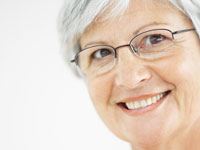 Are you a denture wearer who's afraid to be seen in public because your dentures are unattractive? Do you find yourself eating alone because you can't eat foods your friends eat? Do you carry your false teeth in your pocket? Denture wearers, without knowing it, can become dental "shut-ins." They begin, subtly, to reorient their lifestyles around ill-fitting or loose dentures. When dentures don't look or function properly, some people withdraw from their social lives and suffer depression and diminished self-esteem. Some even become recluses.
Tale of a shut-in
One denturist had a patient, a truck driver, who couldn't eat properly with his cheap dentures. At truck stops, he would take his food back to his truck and eat alone. He gave up his only social activity on the road, swapping stories with other drivers over a meal. For two years, he was a prisoner in his own truck. Many people can reverse a situation like this though. When prosthodontics look and feel right, denture problems become a thing of the past and the wearer's whole mental outlook can brighten. Eating gives pleasure and a feeling of security learned from early feeding experiences. It's an important part of most social occasions. When a person controls the quality and quantity of his food, he's able to achieve this sense of security and a feeling of self-esteem.
So, let's start fresh with some denture tips.
There's no need to feel unattractive or live in fear of a false teeth faux pas in the company of friends and family. A prosthodontist can help you regain function, comfort, and a natural appearance by denture care and repair, or by just replacing or refitting them. Or, it might just mean using better dentures adhesive. Well-fitting prosthodontics are a small sort of miracle, but one that works wonders for your self-esteem. Don't be a shut-in. Call your dentist, and start smiling again.