Conventional Removable Partial Dentures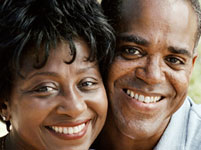 A partial denture is useful for a person missing some teeth, but who still has a number of natural teeth.
This device also is called a removable prosthesis, and is a means by which artificial replacement teeth are held in the mouth. The prosthesis commonly is kept in place by means of clasps. These are thin finger-like structures, usually made of a special resilient metal alloy or sometimes plastic, that rest upon and wrap around some remaining natural teeth. Clasps keep the prosthesis securely in place, but still allow a person to easily take it out for regular cleaning and proper brushing of remaining natural teeth.
Some Reasons for Having Partial Dentures Made
Replace missing teeth
Improve ability to chew more naturally
Chew food with confidence
Make it possible to eat certain favorite foods
Maintain a healthier and socially acceptable mouth
Aid in the preservation of remaining natural teeth
Help prevent or treat problems of the TMJ (the jaw joint)
Often improve speech
Help develop a more pleasing and confident smile
Support the face -- often with a more youthful appearance
Enhance self esteem
Replace missing teeth in an economical way
Add an additional tooth to an existing partial denture if a natural tooth is lost
In most cases, crowning teeth is not necessary to fit a partial denture
Partial dentures are usually easy to repair if they are broken
Esthetics and the Conventional Partial Denture
Generally, clasp design is reasonably esthetic, and often it is possible for them not to be seen. However, depending upon partial denture design, which is based on mouth conditions, there may be some show of clasps. Often, this is not an appearance problem. However, if avoiding an unacceptable show of clasps would compromise optimal partial denture design, various special attachments sometimes may be employed to do away with conventional clasps. These attachments are more technically complex and often are referred to as precision or semi-precision attachments.
How Long Will a Partial Denture Last?
Accidents happen, and the mouth is constantly changing. Partial dentures may no longer fit properly, can break or bend, or simply wear out. In fact, there is nothing made for the mouth that is permanent. Fractured clasps and so forth often may be repaired.
On average, a partial denture may be expected to last about five years. Depending upon circumstances, certain removable prostheses can last a shorter or longer time.
How Often Should a Partial Denture Be Checked?
It is best to have a partial denture, as well as the rest of the mouth, checked at six-month intervals. If left uncorrected, small problems can develop into major ones, which could cause disease, loss of teeth, or necessitate premature prosthesis replacement.
Partial Dentures Need to Be Relined
The jaw ridge that a partial denture rests upon is constantly changing. It is normal and necessary to regularly modify how a partial denture contacts the ridge. This maintenance correction is called relining, and on average, needs to be performed annually for optimal function. However, this is dependent upon how an individual's mouth changes. A licensed dentist can best advise when a reline is needed, and when a reline will no longer adequately restore proper function.
by Joseph J. Massad, D.D.S.
Are Lower Dentures Always A Problem?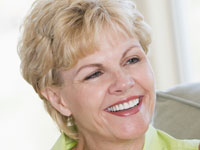 While dentures are marginally adequate substitutes for missing natural teeth, the lower denture can be troublesome for many individuals.
Inherent Lower Denture Problems
A lower denture interfaces with more movable mouth surfaces than an upper denture.
The lower denture has less stabilizing surface to rest upon. For example, there is no broad palatal surface (roof of the mouth) as in an upper denture.
Loss of jawbone over time brings a lower denture into closer contact with tissue extensions called frenum attachments, which create dislodging forces.
While these problems are inherent to lower dentures, every person is different and not affected in the same way. There are ways to approach these problems.
Some Considerations for Improving Lower Denture Stability
A thin band-like tissue extension (called a frenum) may attach between a jaw ridge (called an alveolar ridge) and the inside of the cheek. This strip of tissue may become active while eating or speaking and can lift a denture from its alveolar ridge. This frenum attachment may be surgically moved (this is called a frenectomy).
Alveolar ridge bone profile lessens or literally comes closer to the floor of the mouth as jawbone is lost over time. The bone loss is called resorption. This reduces the vestibule or space between the lip and alveolar ridge. Surgical extension of this vestibule (called vestibuloplasty) provides more alveolar ridge exposure for a denture to rest upon and reduces muscle pull due to a high frenum attachment.
As an alveolar ridge loses bone, it often may be built-up by surgically placing various substances beneath the gum tissue to increase both bulk and height of the ridge. This is called alveolar ridge augmentation.
As a person eats and speaks, the lips and cheeks exert forces towards the inside of the mouth while the tongue exerts an outward counter force. There is a space between the tongue and lips and cheeks, called the neutral zone, where there are balanced forces during function. These opposing forces can help maintain a denture in place, with surprising power, if the denture is fabricated so that its bulk and teeth rest within this space.
Inserting metal implants into the jawbone and fabricating a lower denture to receive and connect with these implants in various ways will help stabilize a lower denture, while still allowing for comfortable and easy removal of the prosthesis for cleaning.
Ensuring that upper and lower teeth contact optimally during function (called balanced occlusion) is a basic means of stabilizing a lower denture. If one tooth strikes on one side only, the denture will rock. Even contact or biting is a necessity. Fabrication of a denture that completely avoids contact with all potentially dislodging structures and has a metal base for strength and some weight often will facilitate stability.
What's the Best Approach?
Frequently, several approaches are combined, and not all may be suitable for a particular patient. After a thorough examination, a licensed dentist can best advise an individual as to the best means of helping stabilize a lower denture in their unique situation.
by Joseph J. Massad, D.D.S.