Complete Denture Care and Repair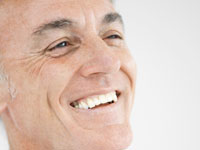 So, you've got brand new false teeth? And you think you're set for life, right? Not exactly.
It's frustrating but true: from the day you first don your dentures, the tissue in your mouth begins to shrink. Your replacement teeth are already on their way to not fitting. The ridges that support the dentures seem to have a life of their own and they begin to recede, the result? Loose dentures. The upper denture moves up and back, and the lower denture settles down. This causes your chin to approach your nose at as much as 1/16th inch per year! On top of that, the bite often goes awry, moving the upper teeth back behind the lowers.
Your appearance changes over time, your cheeks sag a little, new wrinkles around the mouth appear. Diagonal lines run from the nose to the corners of the mouth. Does the image of Gabby Hayes come to mind?
The good news
Denture wearers who refuse to succumb to a premature look of age can take heart. After all, this transformation is not caused by cheap dentures, but old dentures. It's not magic: a new denture can be made. To put it simply, the base is extended to compensate for the shrinkage in the tissue; this moves the front teeth forward to their original position. And takes years off your appearance.
Presto, chango!
Even if your present false teeth are in perfect condition, the changes in your mouth date them. In fact, don't expect dentures to last more than 5 to 10 years and still give you a natural look. A fact of life. But by replacing dentures as your mouth changes, you'll retain a youthful fullness to your face and keep a younger looking smile. If your dentures have been around a while, see your dentist and consider a new set. Old prosthodontics can make you look older, too. And that can be fixed.
Denture Identification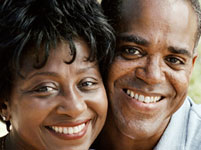 False teeth, like all personal items, can be lost or misplaced. Denture replacement after losing a denture is never a pleasant experience. A person whose denture is lost or misplaced may have difficulty chewing, eating, and speaking, and may be embarrassed by their looks.
Often, a missing denture is linked to being hospitalized or entering a nursing home. Personal items such as dentures or eyeglasses can be misplaced because of an accident, sudden illness, or admission to a hospital. Also, it is not difficult for a nursing home resident or staff member to misplace a denture.
Nursing homes, similar to hospitals, are busy places. Residents often are recovering from serious illness, have recently been discharged from a hospital, are undergoing rehabilitation, or have cognitive and mental health problems such as Alzheimer's disease or dementia. If lost or misplaced prosthodontics are found and they are not labeled with something that identifies its owner, it is very unlikely that it will be returned.
How a denture can be misplaced in a hospital or nursing home:
Wrapped in a napkin and left on a food tray
Placed in pocket of clothing
Removed during a nap and left in bed sheets
Other patients take denture
Staff places denture with another patient's belongings
False teeth can be labeled with an identification label at any time. They can be labeled when they are initially constructed, or the label can be added at a later date. A dentist or prosthodontist inserts the labels in an area of the denture that does not interfere with its function or looks. A dentist or dental technician should be responsible for labeling your prosthodontics. Do not label them yourself with home items such as a felt tip pen or marker. Denture identification can be any combination of a first name, last name, initials, or the first initial of the last name with the last four numbers of your Social Security number.
Loss of false teeth causes inconveniences and problems for the sick, the old, the mentally impaired, and family caregivers. Replacing prosthodontics also requires getting used to the new fit and appearance. Denture replacement also involves cost, arranging for a dental visit, time, and transportation. To eliminate the inconveniences of a lost or misplaced denture, consider the benefits of denture identification.
by Denise J. Fedele, D.M.D., M.S.