Is It Time for New Dentures?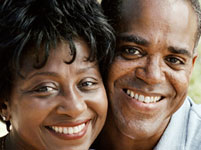 Dentures that fit well can improve your looks and enhance eating and speaking. Talk to your prosthodontist about your current situation and whether you need new dentures. In general, the life expectancy of false teeth is about five to seven years.
Factors that affect the satisfaction and life span of your prosthodontics include:
General health status
Significant weight increase or decrease
Time since loss of teeth
Denture care and cleaning
Tobacco and caffeine use
Shape of your mouth
Changes in facial and oral muscles
Variation in skin tone or color
The color match of false teeth to a natural tooth color can seem to change, especially if the natural teeth are darker due to stains or lighter because of past dental treatment. Also, dentures can wear, stain, chip, or fracture over time. Today's denturists are able to modify the look of smiles and gum tissues in order to compliment existing teeth, skin color, or tone.
Dentures, like all manufactured goods, require regular maintenance and eventual replacement. To maintain proper fit, appearance, function, and to avoid any damage to oral structure, a prosthodontist should regularly evaluate your false teeth. The gum and bone tissues that support dentures undergo changes over time and with age. Often, these changes include a good amount of bone shrinkage. Bone shrinkage causes a denture to become loose, less functional, and slip during eating and speaking. Age-related changes in facial muscles, complexion, and lips also will affect the function and appearance of your prosthodontics. Oral hygiene habits, use of tobacco, and drinking coffee or tea will also affect the appearance of a denture, as well as any odors associated with them.
Since dentures are in use every day, for many years, it is reasonable to periodically replace those that no longer fit properly. If you have not visited a denturist recently, if your false teeth slip, have lost their good looks, cause discomfort, or if they are more than five years old, you may need to replace them.
by Denise J. Fedele, D.M.D., M.S.
Complete Denture Care and Repair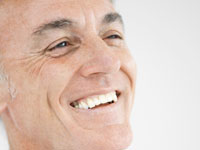 So, you've got brand new false teeth? And you think you're set for life, right? Not exactly.
It's frustrating but true: from the day you first don your dentures, the tissue in your mouth begins to shrink. Your replacement teeth are already on their way to not fitting. The ridges that support the dentures seem to have a life of their own and they begin to recede, the result? Loose dentures. The upper denture moves up and back, and the lower denture settles down. This causes your chin to approach your nose at as much as 1/16th inch per year! On top of that, the bite often goes awry, moving the upper teeth back behind the lowers.
Your appearance changes over time, your cheeks sag a little, new wrinkles around the mouth appear. Diagonal lines run from the nose to the corners of the mouth. Does the image of Gabby Hayes come to mind?
The good news
Denture wearers who refuse to succumb to a premature look of age can take heart. After all, this transformation is not caused by cheap dentures, but old dentures. It's not magic: a new denture can be made. To put it simply, the base is extended to compensate for the shrinkage in the tissue; this moves the front teeth forward to their original position. And takes years off your appearance.
Presto, chango!
Even if your present false teeth are in perfect condition, the changes in your mouth date them. In fact, don't expect dentures to last more than 5 to 10 years and still give you a natural look. A fact of life. But by replacing dentures as your mouth changes, you'll retain a youthful fullness to your face and keep a younger looking smile. If your dentures have been around a while, see your dentist and consider a new set. Old prosthodontics can make you look older, too. And that can be fixed.